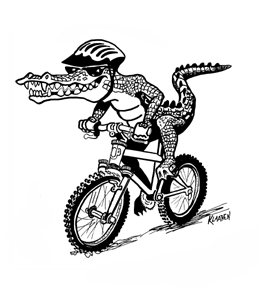 November 8th, 9th and 10th 2013
Alafia River State Park FTF
South of Brandon, Florida
Join the SWAMP Mountain Bike Club for 3-days of off-road adventure at Alafia and Boyette.
2013 Event Registration will open September 1, 2013
Visit our online message forums for information on buying, trading or selling unwanted tickets.
Current Attendee List
Check out these Photo Galleries (in a new window).
The Alafia River State Park Fat Tire Festival is a great mountain bike ride weekend with fun and entertainment in Florida for all registered attendees. With unique topography that offers some of the most radical elevation changes in Florida, the Alafia River State Park mountain bike trails are the most challenging in our riding area. The 'Moonscape' and 'Gatorback' trails were specifically designed for advanced level riders. The less technical 'Bridges' and 'North Creek' provide a real adventure for any experienced cyclist. For new riders, there is 'Sand Pine', 'Rock Garden' and 'River Loop' plus all the 2-track.
Boyette's trails are forgiving enough for newer riders while still offering an exciting ride for more experienced cyclists. We have increased the amount of intermediate trails since last year's event. The diversity of single-track, technical berm sections, and hilly meadow riding will make for a fun day.
Guided rides will be offered at both trail locations on Saturday.
Festival Activities and Amenities Include:
Guided rides for all skill levels on Saturday
Open riding all three days (40 miles of singletrack)
Crazy Crit! (minimum age: 16 years old)
Night ride (Friday at 6:30 PM)
Extreme Biking videos on Friday and Saturday nights
SWAP Meet Saturday evening (bring bike related equipment and clothing to exchange or sell.)
Beverage and snacks available for all rides
Breakfast, lunch & dinner on Saturday, breakfast on Sunday
Camping (two nights) adjacent to the event headquarters
Local bike shop displays and bike mechanic services
Factory Reps with demo bikes
Event SWAG!
Festival headquarters (registration, meals, and entertainment) will be located in the camping area of the Alafia River State Park. Use the main entrance. Only registered attendees and pre-registered guests will be allowed into the event. No entry pass will be provided or needed by registered attendees.
Rides
Experienced mountain cyclists of all skill levels will find a weekend full of off-road adventure. A variety of mountain bike rides will be scheduled for Saturday morning and afternoon. Sunday morning we will have unguided rides for anyone that still has legs that work . Ride Guides and Sweeps will be available for each scheduled ride. Helmets will be required.
A Night Ride will be offered on Friday. You will need good bike lighting (10 watts or better) that can last 2 hours or more.
Meals
The full registration fee includes a total of four meals. The meals feature wholesome food, selected with the active rider in mind. A breakfast with plenty of fresh fruit and high-energy carbohydrates will be served both mornings. Saturday's lunch will be designed for quick energy. Dinner at this event has become legendary. You will once again be amazed by Master Chef Marc Alton. Last year we had brazed beef tips, steamed shrimp, cheese broccoli, and Bananas Foster for dessert. This year should be even better. Proof of registration will be required at all meals.
Camping
The full weekend registration fee includes two-nights' camping in Alafia. We have reserved the entire camp-ground (with bathrooms). Single-day registration does not include camping. To accommodate all campers each campsite will be shared. No reservations, first-come first-served. Please specify, in advance, if you would like RV camping.
Motel Accommodations
Participants wishing motel accommodations must make their own arrangements.
The following are located at an I-75 interchange, approximately 20 minutes from the festival.
Brandon- at I-75 & SR-60
Best Western- 813-621-5555
Comfort Suites- 813-630-4444
La Quinta- 813-643-0574

Ruskin/Sun City exit at SR-464
Holiday Inn Express- 877-466-9111
Registration
Fri-Sun event registration is $95 per person, $80 for SWAMP members.
Saturday only registration is $70 and does not include event SWAG or camping.

Children (under 13) are discounted 50%.
A parent or responsible adult must accompany participants under 13 years of age on all event activities.
Registration is limited to the first 350 applicants.
There will be no event day registration.
Only Registered persons will be allowed in the event areas.
Please Do not bring family/friends/significant other unless they register also.
No unpaid guests.
Camp sites will be shared, and cannot be reserved.
Registration will be verified before entering the park.
Registration will open September 1, 2013.
SWAMP will make arrangements and expenditures based on the number of entries received.
Visit our online message forums for information on buying, trading or selling unwanted tickets.
Event Schedule
Friday
5-8 PM Registration
6:30-8:30 PM Night Ride
Saturday
7-8:30 am Breakfast
7-9 am Registration
9-12 PM Boyette Rides - Staggered Start
12-1:30 PM Lunch
1:30 PM Alafia Rides Start
4-5 PM Crazy Crit
5-7 PM Dinner (pavilion)
Sunday
7:30-9 am Breakfast
9:30 am Unguided Alafia Rides Start
Event Staffing
Volunteers are needed as Ride Guides, sag support, registration hosts, meal servers, and site preparation and cleanup staff. In return for full-time help, volunteer's registration will be waived. Most volunteers get to ride.
Volunteers are needed as Ride Guides, and will receive wavier of half the registration fee.
Not all applicants are guaranteed volunteer positions.
Therefore, include the full registration fee with your application.
Volunteer registration deadline is October 17th and final list of volunteers will be posted after that.
More Information
Event is rain or shine so plan accordingly.
Camp sites are all shared and on a first come, first served basis. The campground will be full.
The park gate will be locked during the night so re-entry may not be possible during these hours.
See previous event photos (in a new window).
Alafia Fat Tire Festival DVD -- to order DVDs @ $15 each, contact Marty at SWAMPClub dot org

For more information E-mail questions to: Events at SWAMPClub dot org