Balm Boyette Scrub Preserve Trail (South of Brandon)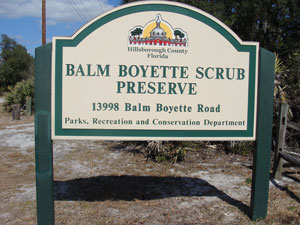 Address: 13998 Balm Boyette Road, Lithia, FL 33547
Trail Work Day: Saturday before the 2nd Sunday of most months, 8:30 am (see calendar)
Boyette Trail Boss: Garry Rosseter, RSVP to: trails at SWAMPClub dot org.
Guided rides: 9:00 am on the 2nd Sunday of most months. See ride calendar for details.
Entrance View: Park entrance view (Use Address link to get driving directions)
Trail Map: Balm Boyette Scrub Preserve Mountain Bike Trail Map (Feb 19, 2013)
Rain:  Heavy rain is extremely erosive to any trail. However, most trails drain very well within 2 to 4 hours. Please avoid the clay trails, Ridgeline and Abyss, for at least 24hrs after rain.
Trail Workdays
SWAMP hosts Boyette work days on the second Saturday of most months at 8:30 am. (See calendar and Trail Building Tools)
For information, contact the Boyette Trail Boss: Garry Rosseter at: trails at SWAMPClub dot org
Directions to the parking lot
Click on the "P" (Parking Lot) marker in the map for more information and directions. Click on the bicycle marks for some trail section names. (zoom in on the map [+] or click the link just below the map for a closer view)
Maintain Trails? Help Us!
With so many trails and so much overgrowth, we can use your help maintaining and repairing trails. We ride some, work a little, play a lot, then ride some more. Trail work is more rewarding than you expect! Find out how you can help, send e-mail to Trails at SWAMPClub dot org.
Balm Boyette Scrub Preserve has about 25 miles of single-track, including about 10 miles of double-track that has become single-track with usage. The sweet single track starts about 2 miles in from the parking area. Boyette is situated on 4,900 acres of upland scrub, located just south of Brandon. About a dozen lakes populate rolling grasslands at the far eastern end of the property, with the remainder being heavily covered with scrub-oak and pine. From beginner to advanced rider, Boyette has something for everyone.
The Ridgeline Trail, completed in December of 2008, is unlike any trail in our system. The climbs are challenging, but within one's reach. The descents are definitely steep enough to cause a moment of hesitation, but the smooth run-out at the bottom puts each drop within your grasp. The trail is wide, with few turns; all designed to allow the rider to build and maintain speed. This trail is all about going downhill really fast...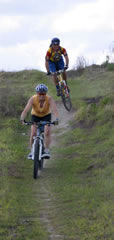 Ridgeline is literally on an island. Yes, surrounded by water on all four sides. Causeways have been built to allow access. With waist deep fern, huge oak trees, and unbelievably high ridges groomed to perfection, this is our club's Fantasy Island.
Ridgeline is 2.0 miles of smooth, rolling fun. To up the thrill factor, there are 4 optional side loops that have considerably steeper drops. Nothing suicidal, but distinctly different, and definitely an attention getter. Plus there are some practice Switch-backs here too.
Located east of Boyette Road, there are 12 miles of beginner's level two-track circling the dozen or so lakes. Several intermediate level single-track loops branch off this main two-track. These loops are cut through the woods and along the lakes, and consists of moderately strenuous, more technically difficult trails. There are some open sections where a rider can gain speed, but for the most part, the trail is tight, twisty and tough. Oh yeah, it's also great fun.
All trails have been marked, cut, and groomed by SWAMP members and public volunteers.
SWAMP, in association with suggestions from the International Mountain Bicycling Association (IMBA), has created a Yahoo! Group for the Boyette Bike Patrol. This Yahoo! e-group is for club members who are also Patroller members of IMBA. Please see below if you wish to be part of this e-mail trail conditions and reporting system.
Click to join Boyette Bike Patrol
If you meet the criteria, use the Join Now button found at the Balm Boyette Bike Patrol group. Then receive ride and trail condition reports. Patrollers who also report trail conditions and incidents receive volunteer hours for the patrol group.

Other
SWAMP

Club maintained trails: