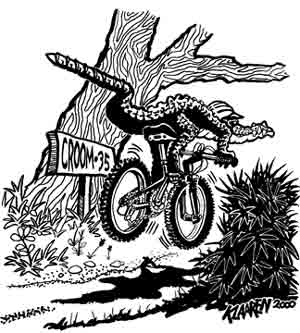 Saturday, February 16, 2013 7:30 am
Withlacoochee State Forest
Brooksville, FL
35 or 50 miles of great single track
No pavement - No two-track

Registration is limited to 300 riders.
2013 Registration Closed February 7, 2013

Visit our Message Forums to buy or sell tickets.
2013 Attendee List
NEW Dates: Feb 16, 2013! (not Feb 2nd as previously indicated). Registration start was shortly postponed as well.
This annual off-road mountain bike ride will test you with challenging climbs, some scary descents, and tight technical mountain bike trail. But mostly it's just miles & miles of rolling single-track...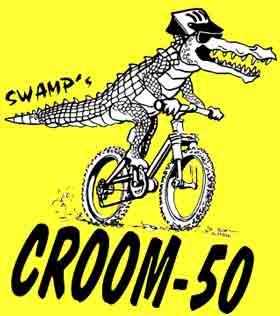 Learn more about Croom trails here.

Event Activities
Well marked ride utilizing 35 or 50 miles of off-road single-track
Breakfast, SAG stops, and fantastic dinner after the ride
Bike mechanic services (at HQ and on the trail)
Night Ride on Friday
Event SWAG
Rides
(Helmets are mandatory)
Friday:
A guided Night Ride will be offered from Trail head 3 starting at dusk. You will need good lighting (10 watts) that can last approximately 2 hours. (Limited to 50 riders)
Saturday:
Registration Check-in and Breakfast 7:30 - 8:30
You can start your ride any time between 8:00 am and 9:00am. Cyclists will follow the well-marked route, setting your own pace. At several points along the route, snacks and beverages will be available. Bailout points are marked if cyclists are unable to complete the entire ride.
Sunday:
For those staying the weekend, all 60 miles of trail will be open. A Croom map will be included in your event packet.
Sat/Sun:
The Withlacoochee Rail-Trail (paved) runs past the campground and the off-road trails. This 45-mile (each-way) scenic venue has virtually no traffic and very few road crossings.
Tips
Rain
Rain improves the trail conditions at Croom by packing down the normally sandy climbs. These trails handle rain very well and usually drain within an hour or so.
We show up rain or shine and members who know prefer Croom after rain. If it is raining the morning of the event, the start times may be adjusted based on conditions at that time.
Check in after your ride
Make sure you check in with the registration table after your ride, even if you are not eligible for swag. This will let us know you have returned and are not left out on the trails.
SAG Stops
There are 3 SAG stops along the route (only 2 for the 35 mile event) at about 11 to 17 miles apart. Snacks and water are available.
Riders choosing to start before the designated start time are advised they might arrive before the SAG stops are setup.
Meals
The registration fee includes a continental breakfast Saturday morning (7:30 - 8:30) with plenty of fresh fruit, high-energy carbohydrates, and coffee.
Dinner will be served from 1:00 to 4:30 pm. Proof of registration (wrist band) will be required at all meals and SAG stops.
Registration
Registration is limited to 300 riders and will close if the event fills prior to the registration deadline.
Event registration is $50 per person ($45 for SWAMP members) and spaces are limited. A complete schedule of activities, plus map, will be provided at event day sign-in. All registrants will be required to sign a online Waiver/Assumption of Risk before riding.
Registration Opens December 5th and closes when full or February 7st.
All entries must be completed no later than February 7, 2013. (Registration closes when the event fills.)
There will be no event day registration.
Registration closed February 7, 2013
Visit our Forums here to buy or sell tickets.
SWAMP makes arrangements and expenditures based on the number of entries received by the last registration date. No refunds will be made after the February 1st deadline.
Croom-35/50 is sponsored by the SWAMP Mountain Bike Club, a nonprofit organization promoting off-road bicycling. All proceeds from the event are used to develop more off road bicycle trails and facilities.
Schedule
7:30am Sign-in, pick up map, etc. Breakfast served until 8:30
8:00 - 9:00 am Ride Start, you choose when
Check in when you return and pick up your SWAG
1:00pm - 4:30 pm Dinner served.
Directions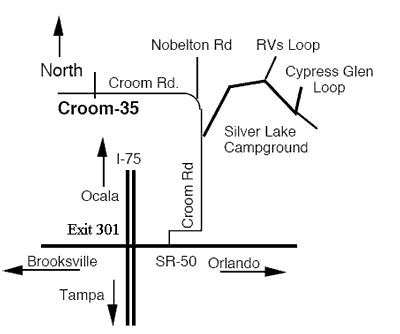 Traveling from Ocala or Tampa on I-75, use Exit #301 for SR-50. Go east on SR-50 for 1-mile to Croom-Ridel Road (2nd traffic signal)
Traveling from Orlando on SR-50, continue west 2-miles past US 301 to Croom-Ridel Road (just past pedestrian overpass).
Turn north onto Croom-Ridel Road.
At 4 miles, Silver Lake Campground is on the right (just before overpass).
At 7 miles Croom Road pavement ends. Continue on rock road another 4-miles to Trail head #3, at the fire tower parking lot. Event is on left.
Click Aerial View of Parking lot to view a Google Aerial Map. Get Driving directions from there too.
Accommodations
Participants wishing to stay the night must make their own arrangements.
Camping
Silver Lake Campground is a short bike ride from the event trailhead. (full hookups for RV's) The Wild River loop of the campground accepts tents and campers, and has showers. picnic tables, and water.
Cypress Glen Campground. (34 electric sites, pets allowed)
Crooked River Campground (26 non-electric sites, no pets allowed)
Silver Lake Loop has a limited number of RV campsites with hookups (reservations not accepted at either location)
All sites can accommodate 2 tents and up to 8 people.
Motels
The following are located at the I-75 interchange, approximately five miles from the event.
Quality Inn (352) 796-9481
Hampton Inn (352) 796-1000
Days Inn (352) 796-9486
More Information
Check out these Croom photos (in a new window) from a past year's event.
SAG Stop 2, Croom 35 50 Challenge, Feb 4, 2012 (Facebook, Photos by Doris Pfister)
For more information E-mail questions to: Events (at) swampclub (dot) org