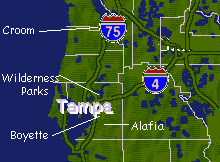 The Tampa area has perhaps the most extensive inventory of mountain bike single-track locations in the state of Florida. Croom, clocking in at nearly 60 miles, is the largest park we maintain. Wilderness Park has close to 30 miles, Balm Boyette Scrub Preserve trail has 28 miles of single-track and 10 miles of two-track that has become single-track with usage. The Alafia River State Park Trail is our most technical trail system with about 22 miles of single track. Our newest trail system, Jay B Starkey Park, currently has about 7 miles of trail. SWAMP has road/off road bicycle maps for each of these trail locations.
SWAMP

Club maintained mountain bike trails:

The SWAMP club invests yearly from $10,000 to $20,000 and 2,800 to 4,500+ hours on these trails.

Help support the trails you ride. Join SWAMP!
Trails maintained by other organizations:
Alafia River State Park (SE of Brandon) EPIC Certified by IMBA!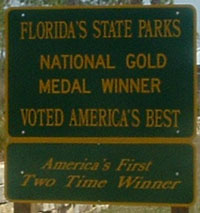 Address: 14326 South CR 39 Lithia Florida 33547. The admission fee is $4.00 per vehicle or $5.00 with 2-8 passengers. Camping is $22.00 per night which includes electric. The bathhouse has hot water for showers. These bath facilities are for registered campers only. Call Reserve America at 1-800-326-3521 to make reservations.
The Park entrance has a stone entry gate and ranger station.
Additional: Florida State Parks information
Trail Work Day: The Saturday before the third Sunday of most months, 8:30 AM. For information contact:
Alafia Trail Boss: Jeff White (trails at SWAMPClub dot org)
Balm Boyette Scrub Preserve (South of Brandon)
Visit the Balm Boyette Scrub Preserve Trails page.
Address: 13998 Balm Boyette Road, Lithia, FL 33547
All trails have been marked, built, and groomed by Trail Work volunteers. (many SWAMP Club members too!)
Please note: With so many trails in Boyette and so much overgrowth, we can use your help maintaining and repairing the trails. We ride some, work a little, play a lot, then ride some more. Trail work is more fun than you expect, and very rewarding. Call to find out how you can help or send e-mail to Trails at SWAMPClub dot org.
Trail Work Day: The Saturday before the second Sunday of most months, 8:00 am OR 9:00 am. For info contact:
Boyette Trail Boss: Scott Roff (trails at SWAMPClub dot org)
Croom Trails (Withlacoochee State Forest, Brooksville)
See Events page for Forest usage by other user groups that may impact riding at this location.

Florida's longest contiguous bicycle single-track officially opened March 1997, as the Withlacoochee Forest - Croom Off-Road Bike Trail. This network of single-track forms two loops of 12 and 35 miles. Actual trail length, including connectors, is over 55 miles.
The trail system is the result of a three year cooperative effort between the Division of Forestry and the SWAMP Mountain Bike Club. The club marked, mapped and maintained the loops as part of a user impact study. At the conclusion of this study, Forestry's management determined that user impact was minimal, and off-road cycling was deemed an acceptable, low impact form of recreation that would fit within the Forests' Recreation Use Guidelines.
The 35 mile loop (#1 on SWAMP Club map) is marked by white signs with the international bicycle symbol in blue paint. The terrain on loop #1 varies from rolling, pine forested hills to low lying oak hammocks. The trails through the hammocks are usually more twisty and close spaced, requiring more concentration. The northern end of this loop includes several miles of trail through an abandoned lime rock pit. This is the most technical section on any of the trails. There are several steep climbs and drop-offs that would be difficult for someone new to the sport. There are bail out points at 8, 12 and 25 miles.
The 12 mile loop (#3, marked with yellow signs) starts at the Tucker Hill Trailhead facility located next to the fire tower on Croom Road (Forest road 6), then crosses rolling hills dotted with oak hammocks. There are three memorable climbs. This loop also has a collection of several small pits to keep things interesting. The yellow loop is the most used trail because it is the easiest to find and best marked. It is the best loop for newer riders, but should be considered as intermediate in level of difficulty. Bail outs are at 3 and 6 miles.
There are three connector trails that allow combinations of the two loops. The connectors (red signs) total ten miles in length (total). By using the red trails one can ride 7, 12, 20, 25, 35 or 42 miles. Trail maps are on all kiosk.
NOTE: Croom also has hiking trails (marked with orange or blue blazes two inches wide by six inches long) and equestrian trails (marked with single or double blue bands six inches tall circling the entire tree trunk. It is considered politically uncool to ride on trails dedicated to other users ...please respect this!

For those who like to camp, adjacent to the single-track is the Withlacoochee State Trail, a 47 mile rail-trail. This paved rail-bed passes by the Silver Lake Campgrounds, a favorite spot for camping, swimming and canoeing.
For those who like to camp indoors, the city of Brooksville is only a ten minute drive. The I-75 interchange also has several motels, half a dozen restaurants, and a small shopping center.
The city of Nobelton has a canoe rental center for those who wish to canoe the Withlacoochee River.
Trail Work Day: The Saturday before the fourth Sunday of many months, time and locations vary. For info contact:
Croom Trail Boss: Bob Wilcox 352-442-1018 (trails at swampclub dot org)
Visit the Friends of Withlacoochee State Forest site for information on how to help support this trail system.
See Events page for Forest usage by other user groups that may impact riding at this location.
Wilderness Park Trails
Three park sections make up the Wilderness Park Trail System: Flatwoods, Morris Bridge Riding Area and Trout Creek. Ridden together, these three parks support a 14 mile contiguous single-track loop (25+ if you include side trails). Because the type of trail varies so much between parks, they will be covered separately.

Wilderness Park Mountain Bike Trail Map by SWAMP (May 27, 2013 .pdf file)
Trail Work Day: The Saturday before the first Sunday of most months, 9:00 am. For info contact:
Wilderness Park Trail Boss: Ken Orlando 813-715-1521 (trails at swampclub dot org)
Morris Bridge Bicycle Area (Off Road Trails)
Also known as "Hole in the Fence", this riding area contains some of the more technical trails in the Wilderness Park system.
Address: 12651 Morris Bridge Road, Thonotosassa, FL 33592
Miles & miles of premo single track. A challenging mixture of trails crossing three distinct ecosystems. There are 'high ground' trails of hard packed dirt, and some sand. All with plenty of shade from pine and scrub oak trees. Approximately 20% of the trails transverse this ecosystem, typical of a central Florida forest. These trails are very scenic, and are beginner and intermediate level trails.
Running up the center of the park is the 'mid ground'. These trails are all hard pack dirt, heavily shaded by Oak, Sugar & Red Maple, and Palmetto Palms. Gorgeous scenery, but you are usually too busy concentrating on the trail ahead to see much. Some of the faster runs are here. Comprising approximately 40% of the trail system, these are intermediate level.
Running adjacent to the Hillsborough River and Cow House Creek are the 'low lands' (read swamp). Depending on the season, this area transforms from soft pack dirt to muck, with all the beauty and mystery of a tropical rain forest. These will be your most technical runs. There are numerous logs to navigate over or around, and closely spaced trees ready to snag a bar-end or pedal. About 20% of the park's trails are these low lands. These trails will be closed during the wet season to protect the environmentally sensitive ground and plant life.
The most technical riding is in the crossover area between the mid & low ground. The soft ground has long since washed away from the base of the trees, leaving the roots exposed. The roots are of various diameters, running at all angles across the path. A rider may travel many feet, moving from root to root without touching terra firma. The trails weave between the closely spaced trees, often allowing only inches clearance on either side of your bar.
Definitely technical runs, requiring a delicate balance of finesse and brute strength. These most challenging trails may only account for 20% of your distance traveled, but probably 50% of your time.
One more thing: "you will get lost".
Top of Page...
Wilderness Park

Flatwoods Park trail
Most riders are familiar with the paved loop shared by road cyclists and rollerbladers, but few know of the single-track opportunities within the park. There are several miles of rideable two-track access roads crisscrossing within the center of the paved loop, great for a beginner. Running adjacent to these roads is a single-track trail linking the 1800 Trail at the east end of the park, to the flood control structure located at the far west end of the park.
All single-track is heavily shaded by oak and pine. There is also single-track and two-track towards the back (west end) of the park. These trails, in conjunction with the above trails, are used to complete a path through Flatwoods. This path is part of the Wilderness Loop that connects all three parks into a 14 mile continuous loop. For those using the Bruce B. Downs parking lot, there is single and double-track linking to the Wilderness Loop.
Top of Page...
Wilderness Park

Located between Flatwoods and Morris Bridge Park, this makes a great starting point for day of fun riding. There are only several miles of trail in Trout Creek, but they are very scenic. There are two lakes, with trails round the perimeter of each, plus a nice two-track section along a power line. In addition to the single-track, riders can use the levy to reach the flood control structure. This structure is used to cross the Hillsborough River, and is an integral part of the Wilderness Loop.
Also in Trout Creek Park are several large picnic pavilions next to the Hillsborough River. There is also a boardwalk and a canoe launch site.
All three parks have bathrooms, water and covered picnic tables. There are six parking lots dispersed along the Wilderness Loop. By using something other than the main parking area at Morris Bridge, the less congested sections of the trails can be easily accessed. This is most beneficial on weekends and holidays. Because of its proximity to Tampa, these trails can easily see 500 to 600 riders a week. All three parks are multi-use recreational facilities. However, Morris Bridge is primarily for hiking. A kiosk displays maps and trail information. Boxes containing information about the park and trails are attached to the kiosk.
Wilderness Park
Loyce E. Harpe Park (Lakeland)
Learn more about Carter and the other sites developed and maintained by

The RidgeRiders Mountain Bike Association.
Some comments on the trail can be found at MTB Review (This will open a new window)
Loyce E Harpe park entrance map (Use the map to get driving directions to the park)

Trail Boss's Request: To keep the "Updates and Comments" section accurate, We need your help!! Please forward Trail Comments, Observations, and Condition Reports to trail conditions for posting.