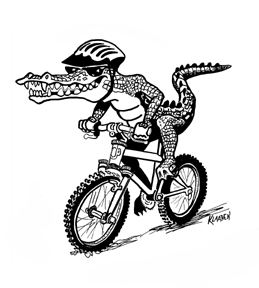 November 10th, 11th and 12th 2017
Alafia River State Park FTF
South of Brandon, Florida
Join
SWAMP

for 3-days of adventure at Alafia and Boyette parks.


Ticket Sales for members begin September 14, 2017 04:00 pm
Ticket Sales for non-members begin September 21, 2017 04:00 pm
Look for your registration link to appear here.


Log in to verify or update your purchasing account or event ticket information.

Visit our Online message forums for information on buying, trading or selling unwanted tickets.
Event Attendee List



Our premier and favorite annual mountain bike event. The Alafia River State Park Fat Tire Festival is a great mountain bike ride weekend with fun and entertainment in Florida for all registered attendees. With unique topography that offers some of the most radical elevation changes in Florida, the Alafia River State Park mountain bike trails are the most challenging in our riding area. The 'Moonscape' and 'Gatorback' trails were specifically designed for advanced level riders. The less technical 'Roller Coaster', 'Bridges' and 'North Creek' trails provide a real adventure for any experienced cyclist. For new riders, there is 'Sand Pine', 'Rock Garden' and 'River Loop' plus all the 2-track.
Boyette's trails are forgiving enough for newer riders while still offering an exciting bike ride for more experienced cyclists. The famed 'Abyss' and 'Ridgeline' trails will amaze and challenge, while the diversity of single-track, technical berm sections, and hilly meadow riding will make for a fun day.
Guided bike rides will be offered at both trail locations on Saturday. (Boyette only before noon).
Festival Activities and Amenities Include:
New!

Reserve RV spaces for Friday and Saturday nights! (more information available soon)
Vendor Village, open to the public
Daytime Pass Tickets, lower rate for those not camping overnight
Guided bike rides for all skill levels on Friday and Saturday
Open riding all three days (40 miles of single-track)
Night ride (Friday at 7:00 PM)
Live entertainment Saturday night
Breakfast, lunch & dinner on Saturday, breakfast on Sunday (included with ticket purchase)
Camping (two nights) adjacent to the event headquarters - proof of registration required
Local bike shop displays and bike mechanic services
Bicycle Factory Representatives with demonstration bikes, available in an area open to the public
Event SWAG!
Festival headquarters (registration, meals, and entertainment) will be located in the camping area of the Alafia River State Park. Use the main park entrance. Only registered attendees with event tickets will be allowed into the event areas. Public parking area and Vendor Village open to the public.
Event Schedule
Friday
1 - 7 pm Registration Check-in
1 - 6 pm Vendor Village (near public parking lot)
3:00 pm Alafia Guided Rides (all groups)
5 - 6 pm Meet & Greet
7:00 pm Night Ride
8:00 pm Park Closes
11:00 pm Quiet time (for everyone)
Saturday
7:00 Registration Check-in Opens
7:00 - 9:00 am Breakfast - Proof of registration required
9:00 am - 12 PM Boyette Bike Rides - Proof of Registration required. Gates close at noon
9:00 am - 7:00 pm Vendor Village (open to the public)
12 - 1:30 PM Lunch - Proof of Registration required
1:45 pm Alafia Guided Rides Start
4 - 5 pm Vendor Village Meet and Greet
5:30 - 7:30 pm Dinner - Proof of Registration required
8 pm Music, entertainment, prize winners announced for sponsor donated items, new theme
8:00 pm Park Closes
11:00 pm Quiet time
Sunday
7:00 - 9 am Breakfast
9:00 am Show and Go Unguided Alafia Rides Start
1:00 pm Check Out. Event Officially Ends
Bike Rides
Experienced cyclists of all skill levels will find a weekend full of off-road adventure. A variety of mountain bike rides will be scheduled for Friday; Saturday morning and afternoon. Sunday morning we will have unguided rides for anyone that still has legs that work. Ride Guides and Sweeps will be available for each scheduled bike ride. Helmets will be required. Proof of registration will be required to participate in any ride. We check every rider.
A Night Ride will be offered on Friday. You will need good bike lighting (10 watts or better) that can last 2 hours or more.
Meals
The registration fee includes a total of four meals. The meals feature wholesome food, selected with the active rider in mind. A breakfast with plenty of fresh fruit and high-energy carbohydrates will be served both mornings. Saturday's lunch will be designed for quick energy. Proof of registration will be required at all meals.
Camping
The camping registration fee includes two-nights' camping in Alafia River State Park. SWAMP has reserved the 30 RV campground sites for Friday and Saturday nights for our event camping participants. However, each RV space may be shared with several tents or one other Trailer. There is enough room for 350 tents. No Friday / Saturday reservations for RV sites, first-come first-served. RV Campers staying over Thursday night who are registered for the event may be asked to move to another RV site on Friday. Campers from Thursday night without event tickets will be asked to leave the park Friday morning.
Motel Accommodations
Participants wishing motel accommodations must make their own arrangements.
The following are located at an I-75 interchange, approximately 20 minutes from the festival.
Brandon- at I-75 & SR-60
Best Western- 813-621-5555
Comfort Suites- 813-630-4444
La Quinta- 813-643-0574

Ruskin/Sun City exit at SR-464
Holiday Inn Express- 877-466-9111
Registration September 14, 2017 - November 6, 2017
Fri-Sun event Adult Camping Registration is $110 per person.
Fri-Sun event Adult Daytime Pass Registration is $80 per person.
Fri-Sun event Child (under 13) Registration is $60 per child.

Camping Registration is limited to the first 300 applicants.
There will be no event day registration. (all attendees must check-in)
Only Registered persons will be allowed in the event areas.
Please Do not bring guests/family/friends/significant other unless they register also or keep to the public areas.
No unpaid guests.
Camp sites will be shared for tents, RV's or Trailers, and cannot (more info soon) be reserved for Friday and Saturday nights.
Registration will be verified before entering the event areas.
Look for the member registration link to appear here on September 14, 2017
All ticket changes must be completed online no later than Tuesday, Novembnr 6th.
SWAMP will make arrangements and expenditures based on the number of entries received.
No refunds.
Visit our Online message forums for information on buying, trading or selling unwanted tickets.
Event Staffing
Volunteers are needed as sag support, site preparation, Ride Guides, registration hosts, meal servers and cleanup staff. In return for full-time help, volunteer's registration will be refunded. Most volunteers get to ride.
Volunteers as Ride Guides only, will receive refund of half the registration fee.
Not all applicants are guaranteed volunteer positions.
Therefore, include the full registration fee with your application, even if you volunteer.
ALL VOLUNTEER APPLICANTS MUST CONTACT OUR EVENTS COORDINATOR.
More Information
Event is rain or shine so plan accordingly.
Camp sites are all shared with Tents, only ONE RV or ONE Trailer and on a first come, first served basis. The campground will be full.
The park gate will be locked during the night so re-entry may not be possible during these hours.
See previous event photos (in a new window).
For more information E-mail questions to: Events at SWAMPClub dot org