Alafia (AL-uh-fi) River State Park Trail (Lithia, Florida)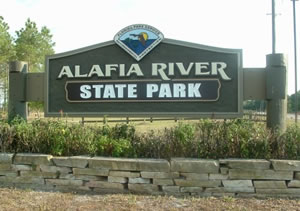 14326 South CR 39 Lithia Florida 33547
Trail Workday: Saturday before the 3rd Sunday of most months, 8:30 am (see calendar) State Park fee waived for volunteers who RSVP early.
Alafia Trail Boss: Angelo Giambrone (Geo), RSVP to: Trails at SWAMPClub dot org.
Guided rides: 9:00 am on the 3rd Sunday of most months. See ride calendar for details.
Street View: Park entrance view from the street.
Fee: $5.00 per vehicle, 2-8 people. Annual State Park Pass, apply here.
Trail Rating (21 miles): 8 Easy, 7 Intermediate and 6 Difficult
Facilities: Parking, Restrooms, Bike Wash, Pavilions, Camping
Events: Guided rides most months and our Alafia Fat Tire Festival in November. Find other Alafia events here.
Rain: Heavy rain is extremely erosive to any trail. However, most Alafia trails drain very well within 1 to 4 hours. Please avoid the high clay trails, MoonScape and GatorBack, for at least 24hrs after rain.
Status: A Florida State Park, open to the public. One entrance (fees apply).
In the News: Bike trail receives improvements.
Bike Rentals: AJ's Bikes RentalsORUBC Bike Rentals (shop located near trail head)
Trail Workdays
Our trails are maintained ONLY by volunteers. Alafia volunteers host trail work days every week - during the weekdays – for those who cannot volunteer on Saturday.
Geo, the Alafia "trail boss" – is looking for volunteers who work odd schedules or "shift work" – e.g. fire, police, medical, service, construction, etc. You do NOT have to be a club member to help with our trails. If you love to ride our trails – consider volunteering… and understand how much volunteer time it takes to keep Alafia in top riding condition. Enhance your riding fun by gaining knowledge about building sustainable trails. It is also an opportunity to share your trail ideas with Geo.
SWAMP hosts Alafia trail workdays at 8:30am on the Saturday before the 3rd Sunday of most months. (See calendar and Trail Building Tools)
For information check the event calendar or contact the Alafia Trail Boss: Angelo Giambrone (Geo) at: Trails at SWAMPClub dot org
Directions to the parking lot
Follow the round-about north to the main parking lot. There is an overflow parking area that is fenced in to the right just before the main parking area. (Find the shortcut to North Creek in the South East corner of this overflow lot.
Click on the "P" (Parking Lot) marker in the map for more information and directions. Click on the bicycle marks for some trail section names. (zoom in on the map [+] or click the link just below the map for a closer view)
View an Alafia FTF 2011 video.

Description
The Alafia River State Park trail is one of the most favored off-road biking choices in Florida. Skilled riders are traveling from all over the state to ride this collection of scary drops, off-camber hillside ledges, high speed banked turns and intimidating ridge top trails. This single-track is built on the rugged terrain of what was once a phosphate mining site. Currently there are about 20 miles of trails at Alafia.
Some riders have a saying as to the best way to make the short climbs: "Pedal down, coast up…  Coast down, pedal up…  Brake down, walk up."

The three easiest (Green) trails are connected together to form the "Easy Loop" – an eight mile, one-way trip. Follow the "Easy Loop" signs for: RiverLoop to RockGarden to Sand Pine. These trails have minimum elevation changes and easy access from the trailhead parking area. For a longer trip, ride the "Easy Loop" in both directions. All three trails are designed to accommodate children with small bikes and can be ridden with city bikes.
The intermediate (Blue) sections are Bridges, NorthCreek and RollerCoaster. These are really fun trails with lots of medium-sized hills, some short and steep, with others more gradual, for speedy downhills. There are several very challenging optional sections along the blue trails (for experienced riders) and the sudden drops, climbs, twists and turns are just plain fun to ride. Look for the Hard / Easy signs.
The RollerCoaster and Moonscape trails (Black) form a 4-mile loop. Gatorback and Rabbit Ears (black trails) are very difficult shorter loops off Bridges and Sand Pine, respectively. These sections all include steep roller coaster type dips, technical rocky sections and very difficult climbs and drops. Many of these have a steep, straight line descents followed by a short valley before the trail climbs rapidly up the opposite side. It is a roller coaster sensation that takes your breath away and gives extra "G" forces as your swoop suddenly transitions from a dive into a climb. Not all of these are a straight line down and up. Some drops have relatively sudden turns. Knowing what to expect and controlling your speed accordingly is necessary here.
Several of the trail designers got together and laid out trail so extreme they had to come up with a new designation; "Double Black Diamond." These "extreme" sections are definitely fun for the more experienced rider.
The address for the main entrance is 14326 South CR 39 Lithia Florida 33547. The admission fee is $4.00 per 1 person vehicle or $5.00 with 2-8 people. Camping is $22.00 per night which includes electric. The bathhouse has hot water for showers. These bath facilities are for registered campers only. Visit Reserve America or call 1-800-326-3521 to make reservations.
All trails have been marked, cut, and groomed by SWAMP trail crews and public volunteers.
Please note: With so many trails and so much overgrowth, we can use your help maintaining and repairing the trails. We ride some, work a little, play a lot, then ride some more. Trail work is more fun than you expect, and very rewarding. Find out how you can help, send e-mail to Trails at SWAMPClub dot org.


Other
SWAMP

Club maintained trails: