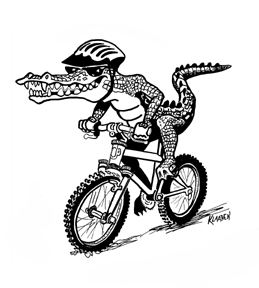 Alafia River State Park FTF
November 9 - 12, 2017
South of Brandon, Florida
Support the
SWAMP

Mountain Bike Club during 3-days of off-road adventure at Alafia and Boyette.

Sponsorship Registration has Closed.


Call: 813-966-0740 Susan Williams

Login to verify or update your SWAMP Dashboard.



Our SWAMP NEWSLETTER reaches over 900 members.
Levels of Support & Advertising
All sponsorship levels have the option of participating in the Vendors' Village and receive the following benefits for your donation. Discounted event meal tickets are available for all sponsor levels.
Green - $200.00
1 year business card ad in newsletters
Marketing material-SWAG in our bag!
Black Diamond - $400.00
Level Blue benefits Plus...
Sponsor logo on the official event T-Shirt
In order to properly process your sponsorship we will need payment and or donations by October 15th
SWAMP

Membership Entitlements

Guided Sunday rides in each of our signature parks.

Guided night rides at Croom & Balm Boyette

Monthly urban social rides.
We hold two major fundraising events with over 350 attendees
Fat Tire Festival every November at Alafia State Park
35/50 mile off road challenge every February at Croom (Withlacoochee Forest)
Group trips throughout the U.S.
Skills classes to increase personal riding abilities.
SWAMP

builds and maintains trail systems in the following parks:
Wilderness Park
Croom (Withlacoochee Forest)
Starkey Park
Your financial support helps provide the necessary equipment and materials to build and maintain sustainable trails that are safe for bikers, hikers and runners in our community.
Ready to Sponsor?
One phone call: 813-966-0740 Susan Williams
Sponsorship Registration has Closed
More Information
Event is rain or shine so plan accordingly.
The park gate will be locked during the night so re-entry may not be possible during these hours.
For more information E-mail questions to: Events at SWAMPClub dot org