Jay B Starkey Park Trail (Southwest Pasco County)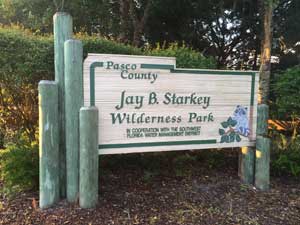 Guided Rides
We usually schedule guided rides at 9:00 am on the third Sunday of most months and at 6:00 pm on the second Friday of each month. See ourride calendarfor details.
Park entrance view (Use Address link for driving directions)
Trail Rating (19 miles): 19.0 Easy miles , 0.0 Intermediate, and 0.0 Difficult
10500 Wilderness Park Blvd, New Port Richey, FL 34655 (Day Use Parking Lot #10)
Facilities: Entrance Fee, Restrooms, Bike Wash, Day Use Area, Camping
Rain: Rain is extremely erosive to any mountain bike trail, as is riding on a wet trail. However, most of this trail drains very well within 2 to 4 hours. Please avoid the short and very wet sections for at least 24 hours after heavy rain.
Trail Workdays
SWAMP Usually hosts open to the public trail workdays on the 3rd Saturday, at 8:30 am, of each month. (see calendar)

Trail Boss: Mark Hardies, RSVP to: trails at SWAMPClub dot org.
Status: SWFWMD State Lands, managed by Pasco County, open to the public. One entrance.
See what kind ofTrail Building Toolswe sometimes use.
For more information contact the Trail Boss.
Directions to the parking lot
Click Directions in the "P" (Day Use Parking Lot 10) marker on the map for more information and directions. Click on the bicycle marks for some trail section names. (zoom in on the map [+] or click the link just below the map for a closer view)
Maintain Trails? Help Us!
Rangers do not fully maintain the trails. We can use your help building and maintaining these trails. Trail work is more rewarding than you expect! Find out how you can help, send e-mail to Trails at SWAMPClub dot org.

Description
The mountain bike trails here opened on June 20, 2014. As of February 1, 2017, Jay B Starkey Park has 19 miles of mountain bike single-track. There are several places along the trail where taking the pavement back allows for shorter loops. Please review the trail map for options in the length of your route. We are in the process of planning additional trail.
This trail has been built and groomed by public volunteers and SWAMP Club members.
Please note: We can use your help building, maintaining and repairing the trails. Trail work is a learning experience and more fun than you expect. To find out how you can help, send e-mail to Trails at SWAMPClub dot org.


Other
SWAMP

Club maintained trails: