Trout Creek Site Trail (Hillsborough County)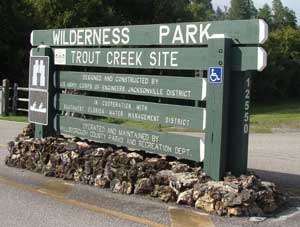 Address: 12550 Morris Bridge Road, Thonotosassa, FL 33592
Trail Workday: The Saturday before the 1st Sunday of most months. (see calendar)
Trail Boss: Brian Boyle, RSVP to: trails at SWAMPClub dot org.
Guided rides: 1st Sunday and most Tuesday's of every month (See calendar for details.)
Street View or Park entrance view (Use Address link for driving directions)
Trail Rating (4 miles, access to 28): 4 Easy, 0 Intermediate, and 0 Difficult
Facilities: Parking Fee, Restrooms, Bike Wash, Picnic Area, Boat Launch
Rain: Rain is erosive to these trails, as is riding on wet trails. Most of these trails drain well within 2 to 6 hours. Please avoid the lower and wet sections of trail for at least 24 hours after heavy rain.
Status: SWFWMD State Lands, managed by Hillsborough County, open to the public. One automobile entrance (fees apply), two trail entrances.
Something for Everyone
This trail system is the easiest to get to from Tampa and is also the easiest trail system to ride. Just off the Fletcher exit (#266) from I-75, we provide beginner training and guided rides at 9:00 am on the first Sunday of every month. We also have Tuesday rides from here when conditions permit (4 or 6 pm). Trails too easy? Go Faster!
Trail Workdays
SWAMP hosts Wilderness Park workdays on the Saturday before the first Sunday of most months. (See calendar and Trail Building Tools)
For more information contact the Trail Boss: Brian Boyle at: trails at SWAMPClub dot org
Directions to the parking lot
Click Directions in the green marker on the map for more information and directions. Click on the bicycle marks for some trail section names. (zoom in on the map [+] or click the link just below the map for a closer view)
Maintain Trails? Help Us!
We can use your help maintaining these trails. Trail work is more rewarding than you expect! Find out how you can help, send e-mail to Trails at SWAMPClub dot org.

Trout Creek Site Park is one of three riding areas that make up Wilderness Park.
The 4 miles of trail this park adds completes a 14 mile loop around Wilderness Park.
These trails have been built and groomed by The Wilderness Trails Association in cooperation with SWAMP, club members and general public volunteers.
Please note: We can use your help building, maintaining and repairing the trails. Trail work is a learning experience and more fun than you expect. To find out how you can help, send e-mail to Trails at SWAMPClub dot org.


Other
SWAMP

Club maintained trails: